Villa elevator for home
FUJIZY

CHINA

20

10000unit per year
FUJIIZY villa elevator,from the perspective of family, builds a warm and harmonious space for each private family and provides meticulous care for you and your family.
Machine roomless design: Compared with the traditional machine room, the building and area required by the villa elevator is much smaller, which is suitable for all kinds of family environment.
Easy installation: The unique design of the shallow pit eliminates the need for dedicated civil wells and extensive civil works, making the installation of the elevator as easy as the installation of household appliances.
Villa elevator for home
---
Quick Details

---
Place of Origin
Shandong, China
Brand Name
FUJIZY

Drive Type
AC
Usage
Residential Elevators
Load
400KG
Material
Stainless Steel
Supply Ability
12000 sets/year
Packaging & Delivery
Generally speaking, a 20-inch container can hold an elevator of 6 floors, 6 stations and 6 doors.
---Small Home Mini Lift Residential Lift
---
Company Description
---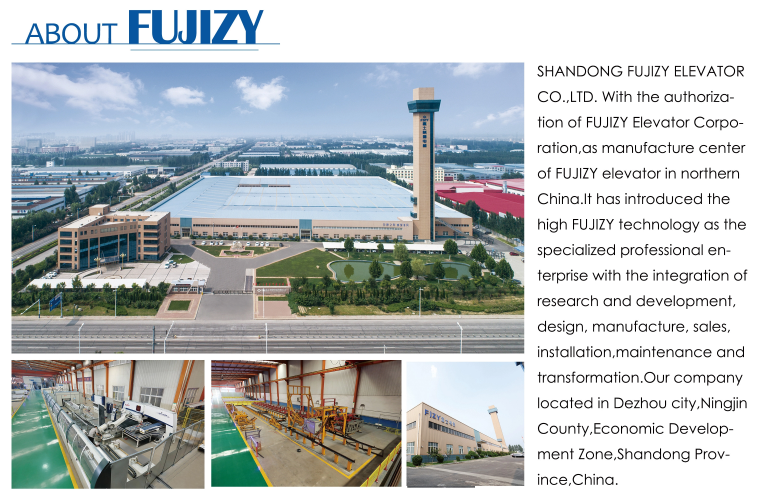 Shandong FUJIZY Elevator Co. LTD is specialized in pocessing and manufacturing elevators. FUJIZY elevator main products cover: Passenger Elevator, Freight Elevator, Restaurant Dumbwaiters, Escalator, Observation Elevator, Conveyor and Parking Elevator, etc.
We are looking for agencies from global partner. we have professiona engineer and we will quote you best price and service for you.
FJ-DD-001

Optional configuration: 1.Mirror S. Steel;

2.Titanium miror S. Steel; 3.Painted steel




FJ-DB-001

FJ-DD-005

Optional configuration: 1.Mirror S. Steel;

2.Titanium miror S. Steel; 3.Painted steel




FJ-DB-004

---Small Home Mini Lift Residential Lift
---
Related Products
---
| | | |
| --- | --- | --- |
| | | |
| Passenger Elevator | Escalator | Panoramic Elevator |
---Small Home Mini Lift Residential Lift
---
Certifications
---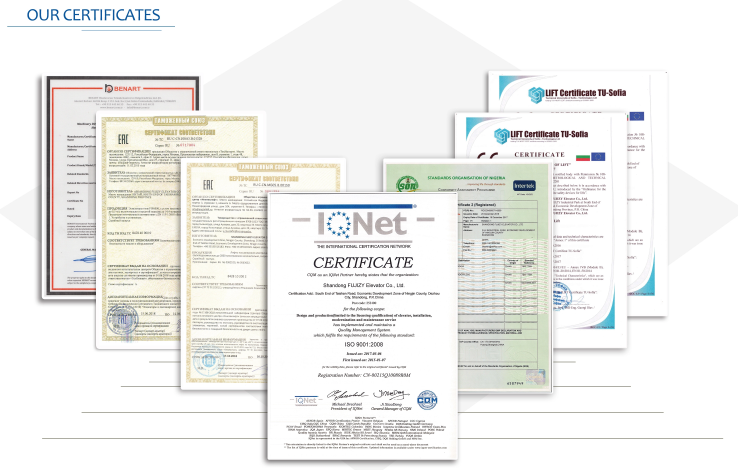 With deep technical accumulation, business experience, excellent team work and management system, Shandong FUJIZY Elevator Co., Ltd. already got a great profession approbation degree with important qualification from goverment, elevator association and the third party testing organization. Satisfying customer' s needs is the only reason for our existence. We, FUJIZY, take root in China and serve the world.---Small Home Mini Lift Residential Lift
---
Packaging
---
Packing

The plywood wooden case is seaworthy and according with export-packaging standards.

Delivery Time

The production cycle of this project is 30 working days.

Documents with shipping

Installation guide manual, operation manual, maintenance manual, construction

layout drawing, testing certificate for all main spare parts, packing list, etc.

(all in English version)
---
FAQ
---
Q1.From which aspects should I consider before installing an elevator?
A1:The space in the house: If you decide to install an elevator but you don't have enough space, you can't choose the one like the traditional passenger elevator that may occupy a lot of space in your home.If your house is very big, then you can choose any type of elevators.
The decoration style: As a new part of your home, you should know which style will be coincide with your home's decoration.
Maintenance: If you don't have much energy and time to maintain the elevator, please choose the one that is maintenance-free or doesn't require frequent maintenance.
A2.What is the necessary information should be provided for an exact quotation?
Q2:How many people load a time? What about the relative load capacity?
How many floors does the elevator travel and how many stops do you need?
E.g. 3 floors 3 stops or 3 floors 2 stops.
What's the shaft size (width and depth)?
What's the storey height?
An exact quotation can be provided as long as the above information is given to us.
Q3.What advantages do you have?
A3:Rich experience: FUJIZY has been in this elevator trade for more than 10 years. Developed from a small factory to a professional manufacturer, FUJIZY has dealt with a lot of technique issues and has rich experience in elevator-manufacturing.
Professional team:
• a skillful production team: manufacturing high quality elevators with high efficiency;
• a dedicated sales team:providing you specialized advice and after-sale services;
• a sophisticated technology group: the group members hold an elaborate and rigorous working attitude while designing the elevator that caters to your taste, ensuring there
won't be any mistake in the design.
---Small Home Mini Lift Residential Lift